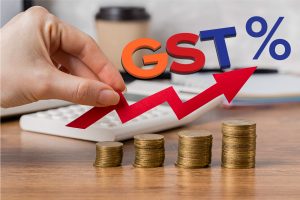 The finance ministry has projected collections under the goods and services tax (GST) at an average Rs 1.6 lakh crore per month in the next fiscal against an estimated Rs 1.4 lakh crore in 2022-23, an increase of about 14 per cent.
The budget has estimated collection under central GST including compensation cess for the entire fiscal at Rs 9.6- lakh crore — 12 per cent higher than the revised estimate of FY23, which is Rs 8.5-lakh crore.
Ministry officials has extrapolated state GST collections from the central one to arrive at the target for the next fiscal.
Collections in the first 10 months of the fiscal were encouraging with an all-time high monthly collection touching Rs 1.68-lakh crore in April and the second all-time high of Rs 1.56-lakh crore in January.
So far, in the first ten months, average monthly gross collection has been Rs 1.49-lakh crore, higher than the requirement of achieving revised estimate in FY23.
Central Board of Indirect Taxes and Customs (CBIC) chief Vivek Johri had said after the budget that the monthly collection is expected to average around Rs 1.50 lakh crore and it will be the ''new normal'' in FY24 in view of concerted efforts to check evasion and bring new businesses within the GST net.
He said the CBIC  has drawn up a strategy to augment mop-up by stricter audit and scrutiny of returns and enforcement action against fake billing.
Meanwhile, the GST Council meeting which was earlier slated for February 18, is likely to be rescheduled later this month because of the busy schedule of all the stakeholders.
"The meeting is likely to be rescheduled due to the busy schedule of all stakeholders involved," a government official said.
The agenda for the council is to consider a report by the Group of Ministers (GoM)chaired by Meghalaya chief minister Conrad Sangma for levying GST on online gaming, casinos and horse racing. Sources said the GoM has not been able to arrive at a consensus on the tax principles for these sectors.
The council may also consider setting up a GST Appellate Tribunal (GSTAT) this month for the expeditious resolution of indirect tax litigation to further reduce the compliance burden for taxpayers and provide a common forum for dispute resolution between the Centre and states.
A group of ministers, constituted to iron out issues pertaining to the GSTAT, has submitted its report at the 49th meeting of the Council.
Source:https://www.telegraphindia.com/business/goods-and-services-tax-kitty-set-to-rise/cid/1915249