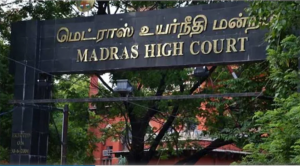 The Hon'ble Court of Madras vide its order dated 10.06.2022 in the matter of Tvt. LAF Enterprises Vs. The Commissioner of Commercial Tax & Anr. in W.P. No. – 14374 of 2022, held that detention of goods without issuance of notice under Section 129 and without following the procedure contemplated in the GST Act is not maintainable and liable to be set aside.
Facts: –
That the Petitioner purchased the scrap from various dealers and was in the process of transporting the same from Guwahati to Coimbatore.

That on 29.05.2020, the vehicle carrying the consignment (Registration No. AP16 TE 0016) got a mechanical difficulty and the driver was forced to deviate from the planned route to the destination, to find a service shop for addressing the issue.
Therefore, the vehicle had been stationed at the Sri Veeraragavar service station that night. However, on 30.05.2020 at 12.30 A.M., the vehicle was intercepted by Deputy Tax Officer, Roving Squad, and the officer after perusal of the documents produced by the driver concluded that the goods were being re-routed without proper E-way Bill.

The interception was justified by the respondents relying upon the statement of driver, however, a copy of said statement was not provided to the Petitioner.
Held: –
The Hon'ble Court after considering the submissions, facts and law on the issue, found that from the clear language of Section 129, the impugned retention is clearly invalid as on detention and seizure under Section 129, an order of detention/seizure shall be passed and duly served upon the person transporting the goods.

It has been admitted on the behalf of the respondent that no such order is passed, so question of service upon the petitioner does not arise. Further as per Section 129(3), the proper officer while detaining or seizing the goods, is required to issue a notice specifying the penalty payable and thereafter pass an order within 7 days of the service of notice.

That in the present case no such notice was issued on the date of seizure on 30.05.2020. Thus, the act of the respondent of retaining the vehicle at the present location is in gross contravention of the statutory provisions. 
The Hon'ble Court with the above findings allowed the Writ Petition and granting relief to the Petitioner, ordered to release the conveyance along with goods immediately and in any event, within 24 hours from today.
For more Judgements like this, Subscribe TAXO today