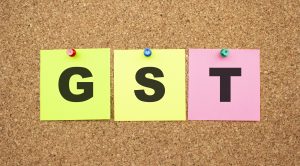 Food Safety and Standards Authority of India (FSSAI) has issued order vide F.No. RCD-01001/7/2021-Regulatory-FSSAI-Part-(1) dated 27th July, 2022 regarding GST on the payments made towards FSSAI. 
This order has come into effect from 18th July, 2022 as per the directions from the Ministry of Finance, Department of Revenue Notification No. 04/2022- Central Tax (Rate) dated 13.07.2022. 
The said Notification can be accessed at https://taxo.online/wp-content/uploads/2022/07/04_2022-ctr-eng.pdf
The GST applicable on State License and Registration fee and Penalties are on reverse charge basis. Therefore, NO GST is being charged through FoSCoS portal on State License and Registration fee and the Penalties belonging to States/UTs. The same is also printed on the receipt generated through FoSCoS.
The Order can be accessed at https://fssai.gov.in/upload/advisories/2022/07/62e11a8f3dc57Order_GST_Food_Business_27_07_2022.pdf