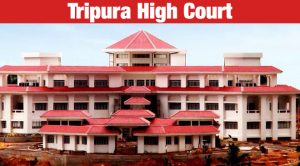 The Hon'ble High Court of Tripura vide its order dated 29th March 2022 in the matter of Podder & Podder Industries Private Limited Vs. State of Tripura and others in WP (C) No. 285 of 2022 held that the vehicle carrying goods ought not to be stopped/seized by the authorities on the expiry of E-way bill and instead an undertaking should be taken from the buyer or seller to appear before the assessing officers and make necessary compliance.
The Petitioner preferred the present writ petition seeking directions to the authorities to release its vehicle and the goods stopped/seized by the respondent authorities.
Facts: –
The Petitioner is engaged in the business of selling of construction machinery and sold certain construction material to a buyer in Agartala from Silchar (State of Assam).

The said machine was transported through a Truck/Trailer used for transporting the material from Silchar to Agartala.

That the vehicle was carrying all valid documents pertaining to machinery including the E-way bill valid up to 03.2022 however due to some technical problem in the vehicle carrying the goods, the vehicle reached at Churaibari on 18.03.2022 and by that time the E-will bill has expired.
For the aforesaid reason, the vehicle was detained on 03.2022 and stopped at the entry point of the State of Tripura and the driver in charge was informed of the seizure of vehicle as well as the goods. Hence the present writ petition has been filed.