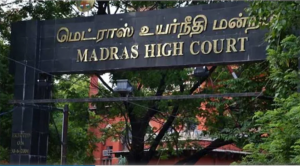 The Hon'ble High Court of Madras vide its order dated 04th April 2022 in the matter of Algae Labs Pvt. Ltd. Versus State Tax Officer-i, Tirunelveli in Writ Petition (MD) No.4958 of 2022 And W.M.P.(MD)No.4073 of 2022 held that post facto inclusion of address in the GST registration, which was mentioned in the invoice as well as in the E-Way Bill, does not amount to detention under Section 129 of the Act.
The Petitioner preferred the writ petition challenging the impugned order demanding tax and penalty amounting to Rs. 12,46,678/- under Section 129 of the GST Act.
Facts: –
The petitioner is new start up company is engaged in research and development of Alage and its utilization.

The petitioner on 10.2021 placed an order with M/s.ABV Engineering, Ahmedabad, for supply of specialized spray dryer and parts thereof. The supplier sent the consignment of the goods accompanied with the invoice and E-Way Bill mentioning the name and address of the Consignee as 'Algae Labs Private Limited, 5/150, South Karumpattor, South Thamaraikulam, Kanyakumari, Tamilnadu – 629708'.