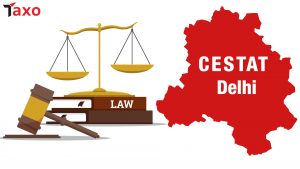 The Hon'ble CESTAT Delhi vide its order dated 11th April, 2022 in the matter of M/s Tasleem Ahmed Vs. Commissioner of Customs, Central Excise and Service Tax, Dehradun in Excise Appeal No. 50808 of 2019 held that the Appellant has clearly abused the process by giving wrong undertaking to conceal the material facts, therefore, imposed a cost of Rs. 10 Lakhs on the Appellant.
The Appeal has been preferred by the Tasleem Ahmed as erstwhile director of M/s Sant Steel Alloy Pvt. Ltd. assailing the order dated 30th June 2017 passed by the Commissioner Central Excise and Service Tax, Dehradun along with an application seeking condonation of delay.
Facts: –
It was stated in the condonation of delay application that the Appellant resigned from M/s Sant Steel Alloy Pvt. Ltd. and his resignation was accepted on 11.12.2014 by the board or directors of the Company. The Appellant has nothing to do with the affairs of the company thereafter.
That on recovery proceedings initiated from the department the Appellant requested for the copy of the order dated 30.06.2017 vide its letter dated 21.02.2019 and was provided the certified copy of the same on 21.02.2019. Accordingly, an appeal was filed under Section 35 B within the period of limitation on 07.03.2019.

It was prayed in that Condonation of delay application be allowed as there is no delay in filing the appeal under Section 35B, otherwise the appellant shall suffer irreparable loss and injury, which cannot be compensated by any means.

The prayer clause and the verification clause were duly signed by the appellant 'Tasleem Ahmed' confirming the averments made in the Condonation of delay Application. Also a statement was made in EA-III that the order appealed against was received on02.2019.  Further the undertaking to the effect that no appeal, writ or suit is pending against the said order was furnished and duly signed by the Appellant as well as the Vakalatnama was also executed in the favour of Mr. Pulak Raj Mullick and Mr. Sahil Mullick.
To read more subscribe today: www.taxo.online