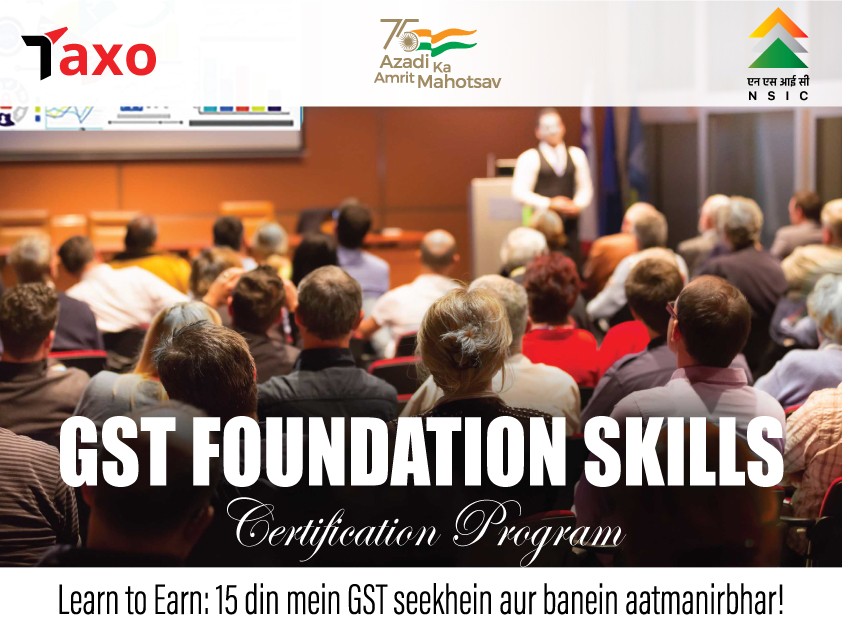 TAXO-NSIC GST Foundation Skills E-Learning Program is designed for small and medium enterprises (SMEs), entrepreneurs, manufacturers, traders, accountants, and students of Commerce, Accounting & Taxation.
The TAXO NSIC GST Foundation Skills Program has been designed to provide practical GST knowledge to thousands of students and SMEs to empower them with quality training at an affordable price. It equips the learners to quickly learn and understand fundamental and practical aspects of GST. It enables SMEs to become GST compliant by equipping them to be able to handle their basic GST related tasks on their own. It also helps students and accountants to become job ready. The E-Learning Program consists of recorded lectures. It also includes two live lectures for providing and introductory overview and doubt clearing. The Program can be completed within 15 days. A Certificate will be provided digitally upon completion of the Program.
What's more? This E-Learning Program comes along with a free annual subscription of TAXO GST 360 (worth Rs 2990*). TAXO GST 360 is a fast and innovative 360° GST Knowledge Solution that provides real-time updates like GST news, notifications, Section-wise Act, Rules, Notifications, Analytical Reviews, Practical Case Scenarios, FAQs, detailed sector-specific Case-Studies and many other useful links to help you manage your day to day GST tasks, efficiently. TAXO GST 360 helps you stay current and updated about changes and amendments in GST.
GST ka matlab kya hai?

GST mein kya taxable hai aur kya nahin?

GST Registration kaise karen?

GST kaise calculate evam pay karein?

GST Return kaise file karen?

Sahi GST invoice, E-invoice evam E-way bill kaise banayen?

Sahi Input Tax Credit (ITC) ki pehchan kaise karein?

ITC availability kaise check karen?

Capital Goods Credit ke baare mein jaankari

ITC Register kaise banayen?

Important due dates calendar ke baare mein jaankari

Reverse charge evam TDS ko kaise samjhen?

Composite vs mixed supply ko samjhein

Tax kab pay karein?

GST refund kaise file karein?

GST mein Valuation kaise karein?

GST Notice ka jawaab kaise den?

Questions and Answers
Get TAXO GST 360 Annual Subscription Free with the above Course. Pricing: ₹ 6490/-  ₹3500/- only. Govt Taxes Extra as applicable. All attendees to get a Digital Certificate of Participation.